Robert C. Kolk Hospitality and Guest Suites
Robert C. Kolk Hospitality and Guest Suites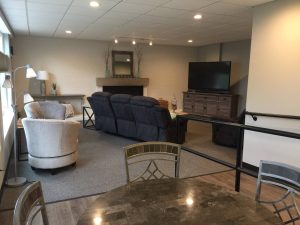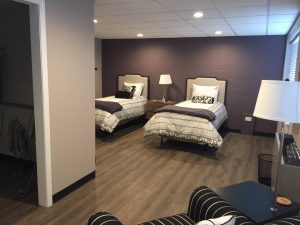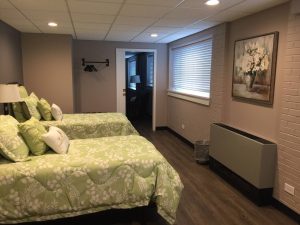 One of the gems of the Good Shepherd Manor campus is the Robert C. Kolk Hospitality and Guest Suites. These suites, designed with our families in mind, were made possible through the generous memorial donations for Bob Kolk, a wonderful friend of the Manor, as well as those from board members, family members and through Meet A Manor Need at the 2017 Brunch Auction.
Since the dedication of the suites in 2018, families have been using them while visiting their loved ones here at the Manor. We want to make sure our families know that the suites are here for any families that need a place to stay, free of charge, while visiting the Manor. It has also been a place for families to gather when their Good Shepherd Manor resident may be ill, having a hard time, or even in hospice care at the Manor.
There are three guest suites which can accommodate up to seven people comfortably. Each suite has its own bathroom with shower. with one being handicapped accessible. Also, there is a beautiful shared common area with a flat screen TV, two reclining sofas, a game table with swivel chairs and a gas fireplace. Adjoining the living area is a fully equipped kitchen complete with appliances and cookware.
If you would like more information or would like to schedule a stay please call the Development Offices at 815-472-3090.
We want to make sure the men are connected to both the community and to their families.  We know that traveling with men, or arranging for help at home can be challenging and hope you consider staying at the Kolk Guest Suites the next time you visit Good Shepherd Manor.  Space is available to families without charge, on a first come, first served basis.